Next steps after Ewhurst
Moving on from Ewhurst C of E Infant School – a guide for parents
Your child's journey:
It's hard to believe, but your child is more than half-way through their time at Ewhurst Church of England Infant School. A snap shot of the journey your child has been taking through our school is shown below*: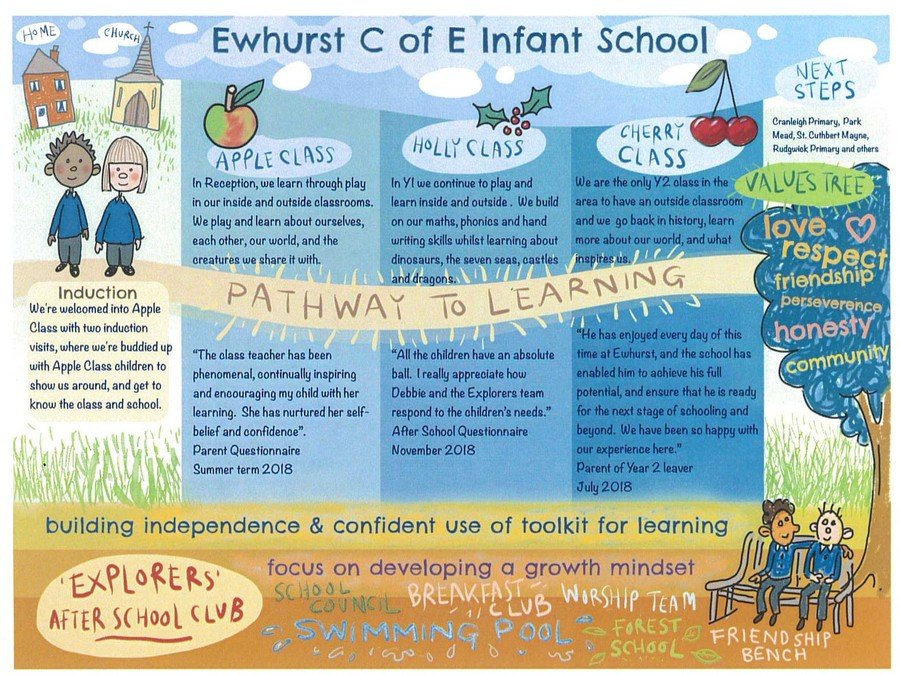 There have been some changes to this due to Covid 19 but we are on track to reintroduce these as soon as lockdown easing allows e.g. Induction into school, Swimming and Breakfast Club.
Soon it will be time to decide which of the many local schools you will choose is best for your child's continuing education. We are lucky, in that there are many good schools in our area, but the next steps from Ewhurst can be daunting, and this guide has been written to help you think through which school is best for your child.
Leaving Cherry Class:
Our school vision is 'inspiring confident learners in God's care', and our school values of Love, Friendship, Respect, Honesty, Perseverance and Community are embedded in all we do at our school. Developing skills for life in the nurturing environment of our Infant school, through our creative curriculum, and through using our indoor and outside classrooms, swimming pool and forest school, provide an exceptional first three years for your child's education. By the time your child leaves Cherry Class, they will be well placed to build on the foundations laid in the previous three years – of being a confident learner, with the skills for life which they have learnt via our toolkit for learning, growth mindset and understanding of these key values. Your child's experiences in Cherry Class are key to this, as here they take on responsibilities within the school and act as role models to the younger children – experiences only Infant schools can provide for year 2 children, and experiences that really enable them to thrive, grow, and mature.
Where have previous cohorts of Cherry Class children gone to?
Over the last five years, children have left Cherry Class to join a variety of different local schools. These have included state schools such as:
Cranleigh Church of England Primary School
Surrey Hills Primary School
Tillingbourne Junior School
Rudgwick Primary School
Cuthbert Mayne Catholic Primary School
Park Mead Primary School
And independent schools such as:
Belmont
Cranleigh Preparatory School
Duke of Kent
Longacre
Please note: The Surrey County Council online application process for Year 3 places provides automatically available places at Cranleigh Church of England Primary School, Surrey Hills Primary School and Tillingbourne Junior School. Movement to Rudgewick Primary School, St. Cuthbert Mayne Catholic Primary School and Park Mead Primary School requires an in-year application direct to the school. Independent schools have their own application process, details of which you will find on their websites.
How do we decide where our child should go next?
Choosing your child's next school is an important step. We have spoken with parents of previous Cherry Class leavers, and asked them to share how they made this important decision. We have outlined a summary of their thoughts, and our own experiences, below. We hope these points will help you decide which school is the best choice for your child:
The vision and values of the school – and how it aligns to Ewhurst and our own core values
The feel of the school – when you visit the school, and talk to the teachers and current parents, and see the classrooms in action
The facilities of the school – technology, access to outside space, forest school
The availability of wrap around care for working parents
What is right for your child – ultimately, you and other parents may have different views about each school you visit, as every child has different needs to enable them to flourish. Although it is tempting to want to enable your child to move schools with their current friends, it is important that the school you choose is right for your child.
How are previous Cherry Class leavers enjoying their new schools?
We often hear how well our Cherry Class leavers have settled into their new schools. Their experiences within our Infant School set them up well to be confident, independent and academically ready to start in what is usually a much bigger school. We asked a selection of recent leaving Cherry Class families to let us know how they had settled into their new schools:
"Ewhurst School has been a great start for our children. The close community environment together with outstanding teaching is everything we hoped for. When our daughter started at Surrey Hills, the teachers commented on the fantastic attitude to learning she brought from her time at Ewhurst."
"Both my daughters attended Ewhurst Infant School from reception to year 2. It was a wonderful start to their education, as being in a small school with one class per year, meant from day one, it didn't feel too overwhelming. All the staff members were friendly and caring and within a very short time knew both my girls names. As they went through the school they were encouraged to engage in play throughout all the three year groups, which I feel gave them a great base to form new friendships both at Ewhurst and their next school (Cranleigh Primary)."
"I'd never change those early years at Ewhurst for anything. The start they were given there was fantastic. The transition to the new school in year three was easy peasy. Even for Oli who didn't have his core friends going with him, those transition days made all the difference as he met his new class and knew he'd found a couple of new people he liked. " (Cranleigh Primary)
"Theo says: Ewhurst was a great start for me as the teachers were all really kind and they encouraged us to do our best and keep trying even when things were hard. Park Mead is an amazing school. The teachers are fun and I love the clubs. Rupert says Ewhurst was fun as I had lots of friends and they made me feel happy which encouraged me in my learning. I love Park Mead because I have a kind class and everyone is taught to be respectful."
Can you tell me a bit more about these schools?
School websites can help give you an insight into each school, it's facilities and ethos. However, our view is that you need to visit a school, talk to the Headteacher, and class teacher/s and if possible, talk to current parents, to really gain a deeper understanding of the school. It is this, which will help you work out if it is right for your child. Below, we have highlighted key aspects of each school's vision, and Headteacher's website welcome messages – alongside the website link, and quotes about each school from ex-Cherry Class parents.
Cranleigh Church of England Primary School can be found in the centre of Cranleigh. The school shares our Church of England faith, and has inclusion and diversity at the heart of its approach. The school's vision is 'Confident learning without limits'. The Headteacher's welcome on their website describes the school as 'a happy and friendly school where every child has the opportunity to reach excellence within a nurturing family ethos. Our children enjoy an active, exciting and creative curriculum which seeks to stimulate, engage and challenge them whilst developing a lifelong love of learning'.
Parent of two Cherry Class leavers says:
"By the time they reached the end of year 2, the natural progression for us was to attend Cranleigh Primary. Many children from both their year groups were also making this move which helped greatly with the transition. This, coupled with many previous children who were already attending the school who they knew from Ewhurst, being in the higher year groups, made this move less daunting. Leaving Ewhurst at the end of year 2 felt like a natural progression to their next school, for us as a family."
Parent of one Cherry Class leaver says:
"Ewhurst is such a lovely school and gives young children such a good start in their education as well as nurturing them and helping them to grow. Cranleigh C of E is.... a great school with a good leadership team and great teachers. The small classes are beneficial and allow each child to get the help they need. When there are issues they seem to be taken seriously and dealt with swiftly. During lockdown the school were amazing, they were really supportive and encouraging and managed to still make us feel part of the school community even though the children were all learning remotely. My child is happy and thriving which is testament to the school and it's teachers."
Find out more by organising a visit, and taking a look at the school's website: https://www.cranleighprimary.surrey.sch.uk
Cranleigh Primary School's newsletters can be accessed here, or you can subscribe to receive them by emailing the office info@cranleighprimary.surrey.sch.uk
Surrey Hills Primary School can be found in Westcott. The school's vision is 'Inspiring the Individual – Creating a community'. The Headteacher's welcome on their website outlines that 'Our team of dedicated and enthusiastic staff set high expectations with a belief that every child can achieve. This coupled with our wonderful grounds provides a purposeful atmosphere, enabling effective teaching and learning to take place. We aim to provide the children in our care with the very best educational experiences and opportunities.'
Parent of a Cherry Class leaver says:
"Surrey Hills has been an excellent fit as a follow-on school to Ewhurst. The junior school site at Westcott has a very similar village community feel to Ewhurst School, with children coming from the surrounding villages. As this site is for junior school pupils only, the rest of the children starting Year 3 also experienced change as they moved sites. Also, with 1.5 classes per year group, its size is not overwhelming. Our daughter has settled in very well, and has developed both academically and socially, in a school that has the same strong values and teaching standards as Ewhurst School. With a wide range of after school clubs and full wraparound care, it has worked extremely well for our family."
Find out more by organising a visit, and taking a look at the school's website: https://www.surreyhillsprimaryschool.org.uk
Tillingbourne Junior School can be found in Chilworth. The school's vision is 'We all work together to achieve the best we can. We learn in fun and challenging ways. We have a happy, safe and exciting school to make us proud. We value and care for everyone and everything.' The Headteacher's welcome on their website outlines their position and facilities 'Set in the beautiful Surrey Hills, we are fortunate to be able to provide a high quality learning environment that your children will learn and thrive in. We have fantastic grounds including large sports fields, an environmental woodland area, and a large playground. We also have spacious buildings which can be flexibly and creatively used. Currently we have a dedicated art room, music room and food technology room, a separate dining room and hall with a full sized stage, and a fully stocked library. With a dedicated and highly professional staff, we are able to offer an exciting, hands-on curriculum which is designed to meet every child's needs. We are very proud of the children at Tillingbourne who achieve well and are positive and enthusiastic learners.'
Parent of a Cherry Class leaver says:
"Sofia had an amazing time time in Ewhurst and she only has good memories and talks to people in her new school about the things she enjoyed in Ewhurst school."
Find out more by organising a visit, and taking a look at the school's website: school's website https://www.tillingbourne.surrey.sch.uk/surrey/primary/tillingbourne
Rudgwick Primary School can be found in the centre of Rudgwick. The school's vision is 'to be a community where everyone is inspired by a love of learning, is supported and encouraged to believe in themselves and is enabled to achieve success'. The Headteacher's welcome explains that Rudgwick 'provide a nurturing environment in which children are valued as individuals. We aim to provide our children with the best possible education and to develop the whole child by preparing and equipping them for the ever changing world in which we live.'
Find out more by organising a visit, and taking a look at the school's website: https://www.rudgwick.w-sussex.sch.uk/
St. Cuthbert Mayne Catholic Primary School is located in Cranleigh. The school's vision is 'Recognising the value and worth of each individual'. The Headteacher's welcome outlines that 'At St. Cuthbert Mayne Primary School we firmly believe that each child is unique and we are committed to developing their God given talents. Our children receive a Catholic education which enables them to fulfil their spiritual, academic, intellectual, physical, emotional and social potential. Christ is at the heart of all that we do and every decision we make is based on what is in the best interest of our children.'
Parent of Cherry Class leaver says:
"At the end of Poppy's time at Ewhurst, we were very sad to leave but have since moved her onto St Cuthbert Mayne, which is also an lovely school....Poppy only knew a handful of other children and has fit in really well. The transition has been smooth and again, we are very happy with our choice and most importantly Poppy is also very happy".
Find out more by organising a visit, and taking a look at the school's website https://www.stcuthbertmayne.co.uk/
Park Mead Primary School is also located in Cranleigh. The school's vision is 'Flying Higher'. The Headteacher's welcome says 'We aim for all children to be happy, confident, risk takers who fulfil their potential. We provide a nurturing environment where we value each child and promote positive attitudes and lifelong learning to help children grow into independent, respectful and creative adults with their own unique gifts and talents.'
Parent of a Cherry Class leaver says:
"Both my sons settled really well into Park Mead when they joined in year 3. The school made them feel welcomed and there are both thriving there. They have great, committed staff who provide excellent extra curricular activities both in and out of school. There is a wonderful emphasis on music which has been amazing and a definite highlight of their time there so far."
Find out more by organising a visit, and taking a look at the school's website: https://www.park-mead.surrey.sch.uk
There are a range of independent schools in the local area, such as Belmont, Cranleigh Prep School, Duke of Kent and Longacre. If you are considering the independent school route, we can put you in touch with parents of recent Cherry Class leavers who have moved onto these schools