African Activities - March 2020
Kuami from African Activities visited the whole school. He said: "Your children are very enthusiastic and a lot of fun. I enjoyed your school and telling them stories about respecting each other!"
Cherry Class Topic Now & Then - 26. & 27. February 2020
We went on a village walk and had a visit of former pupils
Chinese New Year in Apple class 28th January 2020
Apple class prepare a Stir Fry with our cook Debbie for the whole school
"School council lunch"
The school council organised a menu voted by the children in the school. They met with Debbie (our cook) who cooked the most popular choice; sausages, mashed potatoes and mixed vegetables followed by pancakes. Everyone really enjoyed this lunch.
J.A.M Club
J.A.M Club led an assembly on the story of The Lost Sheep. They acted out the story, led prayers, linked the story to our school values and gave everyone a token of a sheep to remind them of the story.
End of Autumn term Service
Christmas Jumper Day and Christmas Lunch
Elections at Ewhurst Infant School 11th December - Who will win?
Three candidates stood for the role of Prime Minister. Mrs Heather Hadfield represented "Friends of the Earth" and gave a passionate plea to the children how to take care of the plane, including building a pool house made of plastic bottles and setting up bikes which produce electricity for the school.
Mrs Nicki Bartlett, a member of "Move & Groove" Party encouraged voters by closing the road outside so children could ride and scoot safely to school. All lessons would begin with active starters to aid learning. Disco's every Friday!
Mrs Debbie Cook, leader of the "Cookie Party" promised an ice cream factory in the school on a Monday. Cookies at break time on a Tuesday and on Fridays party food and music.
Each child followed a democratic process of using a ballot paper to register their individual vote. The school council counted the votes and announced the results which awarded Debbie the title of Prime Minister of Ewhurst School! There are photos on the school website of an enjoyable afternoon and many thanks to staff and governors for making this activity possible.
Nativity 5th December 2019
Two fabulous Nativity performances, Apple class and Holly and Cherry had theirs together
Santa arriving at the Christmas Fair 7th December 2019
Assembly with Police and a REAL police car on site! How exciting!
Pied Piper - "A Star in the Jar" - 27th November 2019
Cherry Class - Advent Workshop Guildford Cathedral 15th November 2019
October 2019 - Holly Class visit Painshill Park and have a fantastic day exploring human and physical features in the park!
7th - 11th October Book Week 2019
This year 'Our Favourite Authors' was the theme. Please click here to download the leaflet. The children enjoyed sharing books by their favourite author with friends - the older children read stories to our reception aged children which was greatly enjoyed by everyone.
"Working alongside"
Parents visited the class to work with their child. It was a great opportunity for the adult to see teaching and learning in action. Feedback from these sessions include
Quotes:
"I loved coming in for "working alongside your child". It's a great opportunity to see the teaching that goes on and how the children interact."
"Working alongside is such a special opportunity to see your child in the classroom, and to see their teachers in action. Extremely appreciated, thank you"
"I really enjoyed the activity as it meant we could work together in a classroom environment. It was lovely seeing the other children's final story plans and listening to them"
I found the "work alongside your child" most valuable as rarely we have such an insight to a school day."
"It's a great opportunity to see the teaching that goes on and how the children interact. Especially lovely for Apple parents to see how well their child has settled and are enjoying these early days."
"It is so important to see our children in their classroom environment. It helps to understand how they learn."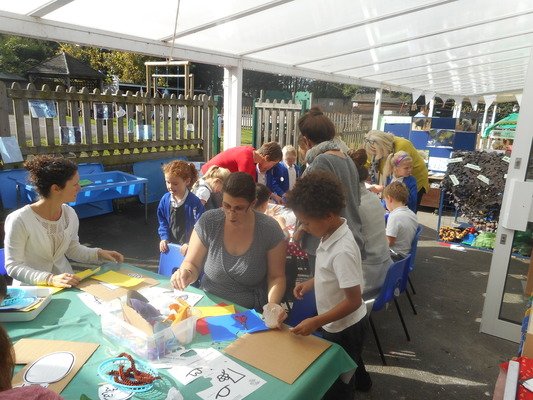 Book Challenge:
Reading is a high priority in Ewhurst School and nearly 100% of children were able to participate in this challenge; to read every day.
Parental comments included:
In Apple Class:
"If I were a Unicorn" - this book opened our imagination and our daughter had fun making up her own story.
"The enthusiasm of the children all joining in with the love of reading"
In Holly Class:
"He did really well with his split diagraphs"
"Great de-coding and use of phonics knowledge"
"He is beginning to decode in his head"
"She was so proud to show me her classroom and really enjoyed the "Peace at last" activity
In Cherry Class:
"There's a snake in my school" by David Walliams - Extremely good expression whilst reading
"Sing to the moon" I liked this book as it was about a boy in Uganda, Parents comment: read well and guessed parts of the story in advance.
Dressing up Day - As a character from a favourite book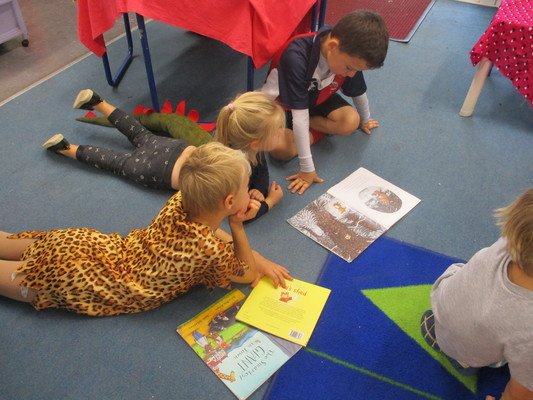 Children brought into school a range of props to help them describe the character they were. A great day was had by everyone!