175th Anniversary in 2021
Ewhurst School Celebrates 175 years!
Education has been provided in Ewhurst through close links with the parish church since the early 18th century when a charity school was set up during the ministry of William Whitfield, Rector of Ewhurst from 1693-1715. In 1822 the school became a national school. From 1833 government grants were available to schools sponsored by The National Society towards the cost of school buildings and from 1841 applicants were required to adopt a trust deed, stating the permanent dedication of the site to the purposes of education and allowing the right of government inspection.
Revd Cooper gave Glebe land for the building of a new school and applied for a grant from the National Society in June 1845. After a delay due to the sudden death of Revd Cooper, The Trust Deed was signed on 12th February 1846. The original school is in daily use to this day and is considered to be one of the oldest in Surrey still to be in use as a school.
1911 when celebrating King George V Coronation
2012 to celebrate the Queen's Diamond Jubilee
How can you help us celebrate?
The current children will be celebrating this event in the summer term and as we are currently unable to invite past pupils into our school due to coronavirus we would love to receive video or audio clips of memories of past pupils. The swimming pool is still in use after nearly 60 years! The children in school will also be sharing current experiences of school during lockdown which will become part of the social history of Ewhurst School- please take part by emailing us on the following address info@ewhurst.surrey.sch.uk We cannot wait to hear from you all!
The impact Covid-19 has had on society cannot be underestimated, but thanks to the many sacrifices we have all made and the ongoing vaccination programme, there is now light at the end of the tunnel. However, the long-term effects of the pandemic are likely to be felt for some time to come. For more information and possibilities to support our school please see our fundraising leaflet. <<please click<<
Making a donation - do visit our Virgin Money Giving page <<<please click<< or call us on 01483 277291, or email us on info@ewhurst.surrey.sch.uk
Our amazing pupils are supporting their school with challenges they are setting themselves. Thank you so much for your perseverance and support!
Leonie is cycling all the way to Shoreham! You would like to support her: please see this link. Thank you.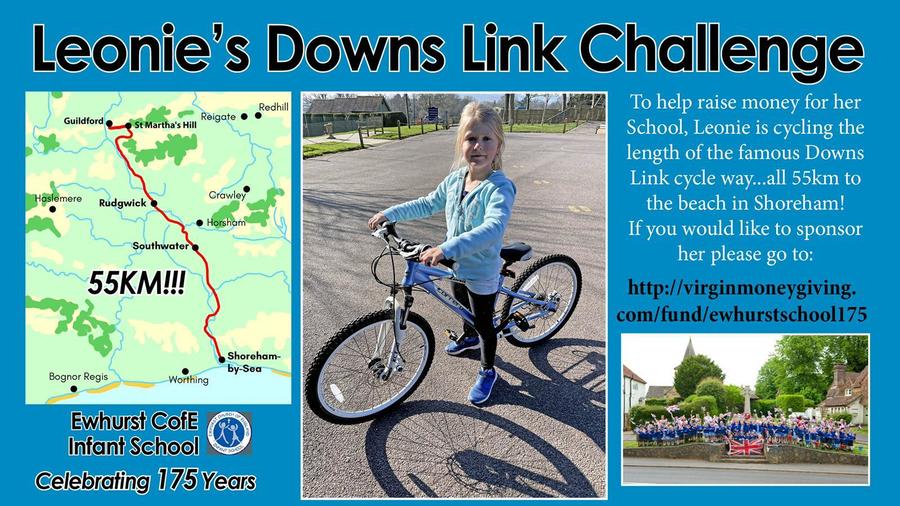 On Friday 4th and Saturday 5th June (half term) Leonie took on the challenge to cycle the length of the Down's Link, from Bramley to Shoreham, accompanied by her dad, Nick, to raise money for Ewhurst school.
The family woke on the morning of the 4th June to rain showers; not what they'd hoped. Despite the weather, they set off, bikes in cars to Bramley. Leonie, waterproof zipped up, started off the cycle in the rain and mud with her support crowd (Mum, Grandma and younger sister!) cheering her on.
Having reached Rudgwick, soaking wet, they took a break to dry off, before cycling down to Southwater. It was the end of the first day.
The best day was much brighter and Leonie, knowing that she had a shorter distance to cover and that the end was in sight, started strongly. The sunshine was very welcome. With frequent recovery and 'snack' stops, she slowly covered the remaining 16 miles all the way to the coast. What a celebration when they finally reached the beach and fish and chips to celebrate!
Leonie comments 'it was a really hard challenge and I wanted to stop but I'm really glad I kept going. I'm proud that I raised over £800 for my school.'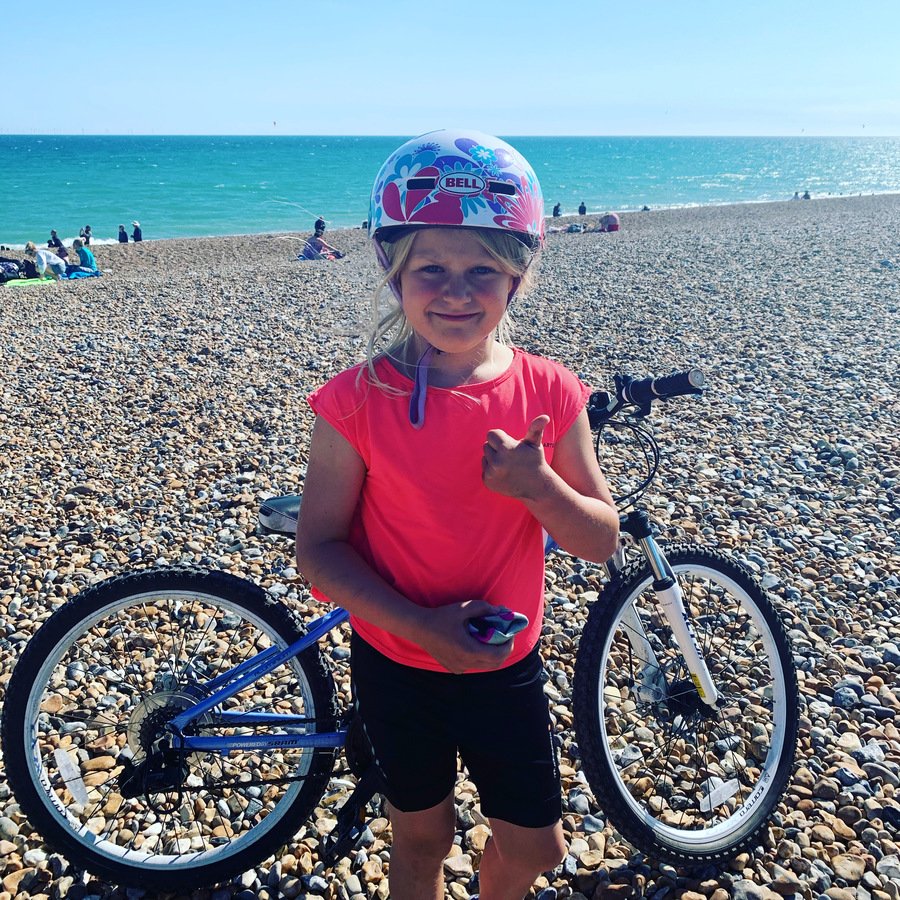 On Sunday 18th April Chloe and Elsa from Year 2 Cherry class completed their amazing challenge of walking, running or cycling 5km each every day of the Easter holidays. They covered 85km each and with your help have raised over £1000 for our wonderful school. This is no small feat for two seven year olds from our Cherry Class!
They wanted to say an enormous thank you for your support and encouragement throughout their challenge.